In the month of February, everywhere you look are signs of Valentine's Day: red hearts everywhere, restaurants advertising their special dinners, drug stores filled with heart shaped boxes of chocolate. If you're going through a divorce, it's enough to make you scream in horror or wallow in loneliness. But, there is hope for moving on.
I often tell my colleagues that "I am a divorce attorney by day and matchmaker by night." By this I mean, matchmaking not just in the regular "love connection" sense, but also helping others form new friendships and professional connections. I am very proud of my clients who have weathered the divorce storm and have moved on to more productive and satisfying friendships and love lives. I'd like to share with you three heart-warming stories.
I have two women clients who have so much in common they just had to meet. They look very similar (and in my eyes, are beautiful -inside and out), are of similar ages and religious backgrounds, have very young children, and both went to my law school alma mater, Cornell. So, I introduced them by e-mail, and they connected. I also invited them to attend a Cornell alumni event with me. We went to an Islanders' game and met one of the players who is a Cornell alumnus. It was so much fun, enjoying my clients' company, having blue cotton candy, talking and (marginally) watching the game. My two clients hit it off, and are now good friends, supporting each other in their post-divorce life. A photo of our fun time is below.
Another client is a 65 year old woman who was married for 44 years. Her divorce was indeed a shock, filled with repeated bouts of depression and anxiety. What was worse, her husband was already living with his girlfriend even before the divorce was final.
Despite her circumstances, this client is one of my favorite people because she is so full of life, interesting, generous, and fun. I barely notice our age difference, and enjoy hanging out with her. This winter, she was in a chorale concert, and invited me and my husband to the concert and fabulous after party at her home. She introduced me to all of her close friends, who already knew me as "the divorce attorney I heard so many wonderful things about."
Now, one piece of advice I gave her is to "Have an open heart and be open to meeting new people, and don't think that every man will treat you the way your ex did. Just look for the golden heart." Despite her resistance to moving on, indeed she did. And, at that party, I was introduced to her "new friend," a lovely, kind and generous man who happens to be her neighbor. I can't be happier for her.
Finally, speaking of neighbors, a male neighbor of mine had moved out of my building over a year ago, but we bumped into one another on the street recently, and caught up with each other. I asked him if he was dating anyone, and what was happening in his love life. He mentioned to me that three months ago, he met a woman at a restaurant in Roscoe, New York (where is that, exactly?) who mentioned that she lived in my building. He could not stop thinking about her. He never got her last name or business card. I just had to help him. So, I sent an e-mail blast to everyone in my building, looking for this woman, describing how they met at a restaurant in Roscoe, NY on the by-line "playing cupid." I got lots of e-mails from people in the building saying how cute this all was, but no response from my mystery woman.
A month went by, and still nothing. And then, one day, there it was in my inbox. The mystery woman revealed herself, and that she hoped she was not being too presumptuous by responding. So, now these two are connected, and I am so happy to be the catalyst.
To all of my clients, think of February as the month of hope in creating more meaningful, sucessful and happier connections with others, whether friendship or more. Make sure you treat yourself well, including having a coffee gelato, with hot fudge, spinkles and a chocolate covered strawberry on top. Wait, that is my dessert fantasy, you choose yours…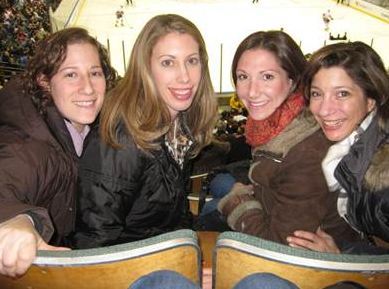 From right to left: Wendy, Wendy's two clients and a friend at the Islander game